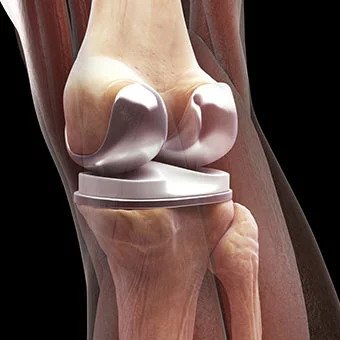 What Is A Total Knee Replacement?
A total knee replacement is a surgical procedure whereby the diseased knee joint is replaced with artificial material. The knee is a hinge joint which provides motion at the point where the thigh meets the lower leg. The thighbone (or femur) abuts the large bone of the lower leg (tibia) at the knee joint. During a total knee replacement, the end of the femur bone is removed and replaced with a metal shell. The end of the lower leg bone (tibia) is also removed and replaced with a channeled plastic piece with a metal stem. Depending on the condition of the kneecap portion of the knee joint, a plastic "button" may also be added under the kneecap surface. The artificial components of a total knee replacement are referred to as the prosthesis.
The posterior cruciate ligament is a tissue that normally stabilizes each side of the knee joint so that the lower leg cannot slide backward in relation to the thighbone. In total knee replacement surgery, this ligament is either retained, sacrificed, or substituted by a polyethylene post. Each of these various designs of total knee replacement has its own particular benefits and risks.